WATER CLEAN ENOUGH TO DRINK
Singapore Swimming Pool Maintenance
Anwill Singapore Swimming Pool Maintenance is a Singapore based business entity, established in 1983. With the initial core business focus on Residential Swimming Pool and SPA, Anwill has now grown over the past 30 years to including servicing Private Apartments, Condominiums and Clubs.
The water feels like spring water on the skin. My children like to splash water and even swallow the water with no ill effects.
No chlorine, no need to rinse off after swimming and no red eyes. I am thrilled with Enviroswim.
With Enviroswim, there is no need to add chlorine at all. The water of my swimming pool becomes the cleanest it has ever been.
Water Pressure Booster System
Does your toilet take forever to fill up? Your shower head barely put out any water? Or your washing machine take hours to fill up? Low water pressure can cause a lot of frustration on a daily basis.
Products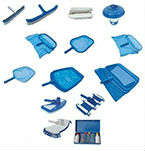 Anwill carries a wide range of swimming pool cleaning equipment including pool skimmers, leaf rakes, pool brushes, pool vacuums, vacuum hoses, telescopic poles and more …

We stock a full line of pool and SPA chemicals …
Enviroswim produces water that is cleaner, fresher, purer than a mountain stream. Seriously, it contains less metal than the tap water you drink – it is absolutely pristine. You can even water your plants straight from the pool and they will love you for it!